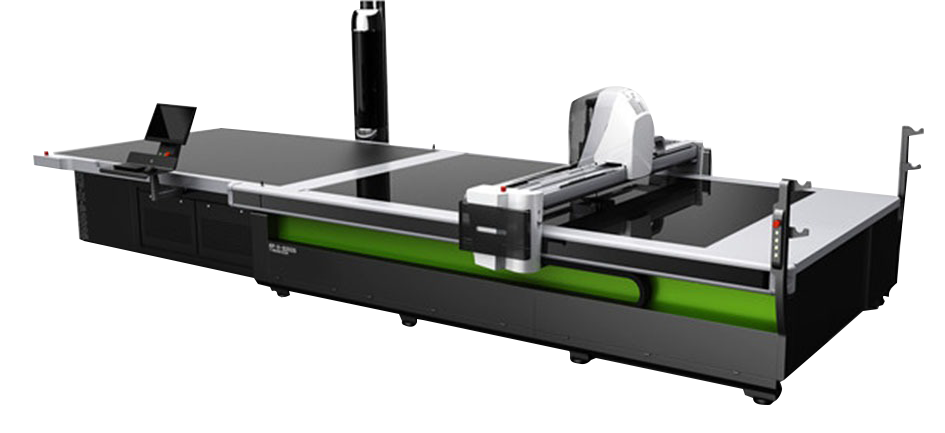 Main Feature:
Main Feature:
1. The marker laying system be designed by computer, combining with manual and computer, improve the efficiency of
marker laying, ordinary workers as long as you are familiar with computer operation, can be familiar with the mastery of
the art of marker laying.
2. it can realize zero distance cutting, Maximum use of fabrics. automatic control straight line and arc cutting speed
,guarantee cutting accuracy and cutting quality
3.Computer-controlled automatic cutting, save a lot of cutting workers, to realize mass production
4. The high precision cutting can improve the cutting pieces precision and the sewers no need trim the pieces any more.
5. Custom-made software which is no need connect driver , Highly targeted ,according to the customer actual production
conditions and current use CAD
6. Automatic setting Sharpen interval according to the different condition which can makes cutter life longer.
7.Consumable easy to replace, the replacement cost is low
8.High degree of automation, simple operation
9.New energy efficient pump design, reduce equipment noise. In the same performance, reduce power, save energy
10.The intelligent crop cutting tool control software improves the cutting quality from top to bottom
11.Long life temples brick cutting window, the blade can pierce the surface without damaged
12.Pick-up zone conveyor belt can be independent or synchronous operation
13.Automatic reminder for changing the cutter
CAM Specification:
Model No. 型号
KP-X1725
KP-X2025
KP-X2325
KP-X1733
KP-X2033
KP-X2333
Cutting area(W*L)
1700*2500mm
2000*2500mm
2300*2500mm
1700*3300mm
2000*3300mm
2300*3300mm
63″ *98″
75″ * 98″
87″ * 98″
63″ * 130″
75″ * 130″
87″ * 130″
Cutting thickness
Max. 70mm(vacuum suction)
Cutting material
Garment cloth(knitted and woven), nonwoven fabric, plush toys, shoes, leather, sofa cushion,car interior decorative fabric, bras, medical gauze, composite fabric,car seat, ect.
Max cutting speed
60m/min(according cutting materials)
Cutting accuracy
≤ ±1mm
Power
16-25kw
Cutting style
Straight Knife Continuous Up-down Cutting
Cooling System
Auto Air Cooling System
Control System
KP-ACS Copyright system'well compatibilty with any version CAD software
Software
Multi-language ACS software,auto change
Sharpen way
double gear derogatory method
Air pressure supply
7 KPS
Max speed
4000rpm/min
Motor/driver
Japanese Panosonic Servo motors & Drivers
Machine power
AC380V/50HZ
Weight(kgs)
3300
3500
3700
3700
3900
4100
Machine out size(mm)
5900*2650*1500
5900*2950*1500
5900*3250*1500
7500*2650*1500
7500*2950*1500
7500*3250*150
Material Cutting Sample
Control system:
The controller system has been completely independent research and developed by the doctor from Huazhong university of Science and Technology, We own its intellectual property, it can accept 98% cloth CAD software and different file format, the working speed is fast and stable, we have obvious advantages when you need to update and maintain the system.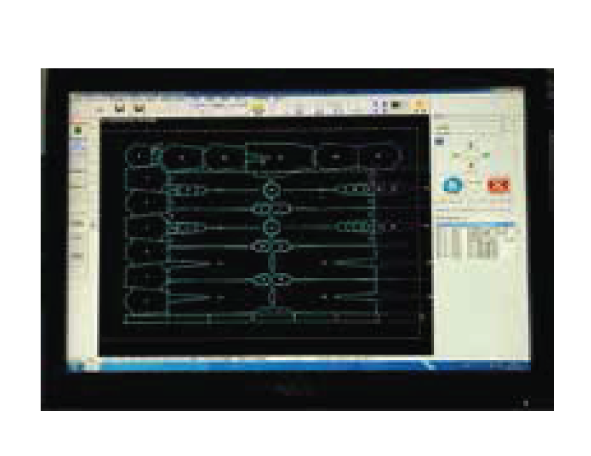 XY transmission system:
The XY transmission system adopt the Germany gear and rack, the Mechanical precision error is less than 0.1mm, the gear and rack adopt the oblique gear and rack technic, make the cutting much stable and precision, faster speed, long life, smooth start-stop. Auto cutting machine from other factories mostly use the spur gear or belts transmission.
Machine body system:
The machine body adopt the advance steel plate seamless connection of square box with high-speed machine tools bed structure, Annealing to deal with the internal stress, to make sure the machine body no deformation for a long time. Large five-axis milling planner milling forming at a time, it can ensure the body the basis of good precision. It can make sure the machine working with high speed
Automatic knife sharpening system
The equipment adopts automatic knife sharpening technology, the knife sharpening time can be controlled by different fabric, which will extend the using life of the cutting blade